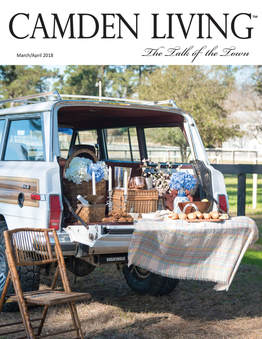 QUALITY VARIETY VALUE
Camden, South Carolina's oldest inland city, is rich in history, horses, antiques, art, music and diversity. There is a lot more going on here than meets the eye. That is the inspiration for Camden Living magazine.
A great environment to promote your business, our beautiful four-color magazine features a variety of topics, regular columnists, an event calendar and more. Published 6 times/year, Camden Living is advertiser supported, free to pick up in over 80 locations. One of our hallmarks is the quality of our ads, an attractive feature of our magazine.
We hope to be a bright spot in your day, be thought provoking, make you smile, laugh and maybe learn a thing or two.
Published 6 times/year. Owner/Publisher/Editor Janice Coley
Free to pick up.
SUBSCRIBE
to have it mailed to your home or office.
---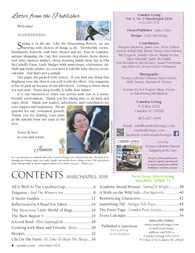 OUR READERS

VARIETY could be our middle name! Camden's diversity provides an infinite pool of topics, appealing to a wide audience. Many readers subscribe to have Camden Living mailed to their home or office even though it is free to pick up. In addition to our local following, we have subscribers in 7 states with ties to and an interest in Camden as well as gift subscriptions from readers to family and friends. We have a great readership; students, professionals, retirees, visitors and more.

Click the image to enlarge the Contents and Letter from the Publisher in our current issue.

OUR COVERS

---